Matthew Schroeder, DVM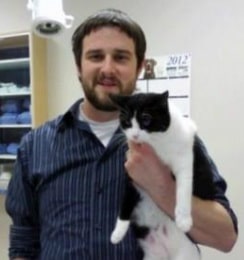 I have always loved animals, and I first told my parents I wanted to be a veterinarian when I was eight years old. Once I got my first cat, a Cornish Rex named Corny, I realized just how important pets can be in a person's life. After graduating from Riverside High School in 2000, I attended The Ohio State University, earning my Doctor of Veterinary Medicine degree in 2007. After three years as an associate veterinarian, I decided to pursue opening my own practice. While planning and building Crossroads Veterinary Hospital, I worked as a relief veterinarian, filling in temporarily at numerous veterinary clinics throughout northeast Ohio.
In 2004, I married my best friend and high school sweetheart, Kaari, who is also a graduate of The Ohio State University in occupational therapy. We have three children: Miles, Calvin, and Lucy. Our dogs Bluebell and Quincy are in love with our kid. We also have a betta fish named Blue.
I look forward to getting to know all of you and your furry family members.